January 28, 2022
Posted by:

FCS Compliance

Category:

Blog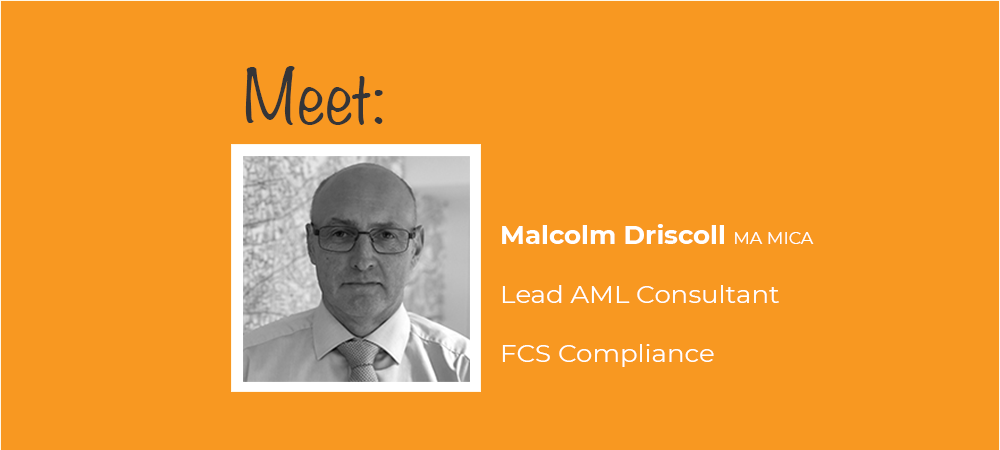 Find out more about the AML experts at FCS. This issue, we introduce you to Malcolm Driscoll, Lead AML Consultant, who joined FCS Compliance after many years in the Police Service investigating serious and complex financial crime.

---
Today we're talking to Malcolm Driscoll, Lead AML Consultant at FCS Compliance, to learn a little more about his background, what brought him to FCS and the AML tips he believes we should all know about.  So let's start at the beginning of your career which I understand began at Hertfordshire Constabulary?

Yes that's right I spent 23 years working for Hertfordshire Constabulary.  I started in uniform, before transferring to their Criminal Investigation Department (CID) where I worked for six years.  And from there I moved into the Fraud Squad division, where I investigated complex company fraud cases, which included having to extradite criminals from countries such as America and Africa.   I followed this with seven years in the fraud squad. 

That sounds really interesting and I guess led to your move to the City of London Police Fraud Squad.

It was interesting.  Fraud devastates peoples' lives and yet doesn't get the attention that I believe it should.  The City of London Police was at the time ear-marked to become the National Fraud Squad (it became Action Fraud) and, for anyone interested in fraud investigation as a career, this was the place to be. 

And this was where you met Jerry (Walters, Founder of FCS Compliance)?

It was!

And I understand you worked on some pretty high profile cases while at the City of London Police?

I did.  I was there for seven years in total and dealt with some very high profile cases including the company theft of almost £4.5m by an employee of Goldman Sachs which became the subject of a TV documentary.

We essentially investigated companies acting fraudulently, looking at unsatisfactory business transactions and suspicious individuals too, including those in professional occupations such as doctors and pharmacists. 

All this and you completed a masters degree in fraud management too?

As I say, it's a fascinating subject and my MA studied the potential for corruption in sport.
What happened next?

I retired!  But didn't stay away too long.  I came back into the service as a detective with British Transport Police where I worked in their financial intelligence and financial investigation unit.  I was there for some 10 years.  

and then Jerry approached you?

He approached me in September 2019 and after over 40 years in the police, I left and joined FCS. 

What's your role within the company?

My title is Lead AML Consultant but on a day-to-day basis this means I do a fair amount of training, carry out Customer Due Diligence (CDD) and audits, help clients file Suspicious Activity Reports (SARS) and generally ensure that they have all the tools needed to be AML compliant.

You have so much insight into the world of fraud and fraudsters.  What would you say are the most common mistakes that people make when considering their AML obligations?

People think they know their clients so well – they've often worked with them many times – and because of this they simply can't believe they could be laundering money.  However, they could be.  My experience has shown me that some of the most successful people are fraudsters.

Whether you're working in property or the art world you need to be vigilant – it's your responsibility to make sure that your business, your transactions are AML compliant, don't rely on the word of others.

That sounds like sound advice.  And one top tip?

My top tip is simple.  Just be AML compliant.  It's easier to get on with it than risk a fine or even imprisonment. 

Thank you Malcolm, it's been great talking with you today.

– January 2022 –