October 12, 2021
Posted by:

FCS Compliance

Category:

Blog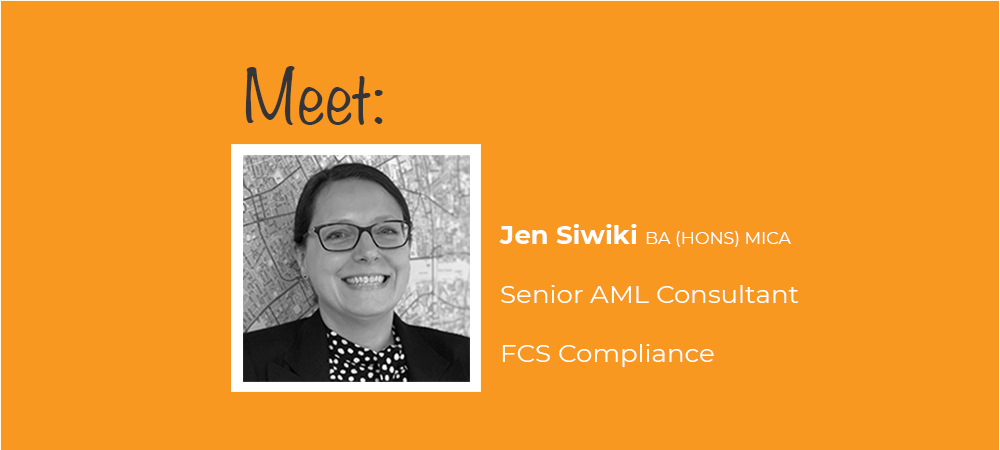 Find out more about the AML experts at FCS. In this interview, we introduce you to Jen whose background at the Serious Organised Crime Agency (now the National Crime Agency) and the City of London police means she knows what investigators are looking for when it comes to AML compliance.

Hi Jen lovely to catch up.  You joined FCS Compliance in 2019, but tell me a bit about your background.
My degree is in criminality and after graduating I went to work for the Serious Organised Crime Agency or SOCA, which has since become the National Crime Agency (NCA).  A name familiar to all of us.
Here I worked as a Financial Intelligence Officer and in particular, I worked on Suspicious Activity Reports or SARs.  My role was to pull out and analyse data from SARS forms which in turn was used by  – amongst others –  HM Treasury who annually publish a National Risk Assessment on money laundering and terrorist financing.
Government departments, including the Home Office were, and are still, keen to get a sense of how many SARs are being reported and which business sectors in particular are submitting them.
That's so interesting and now you're still working with SARs but on the other side.  Let's come back to that in a moment.  Where did you move to after you left SOCA?
I moved to the City of London police where I worked as an investigator in the Fraud Squad.  This is where I met Jerry Walters, the founder of FCS Compliance, and worked in a team with him.
It was an interesting job and was lucky enough to work on a number of high profile cases.  I essentially traced the movement of money, much of it laundered, by criminals.  One particular case I worked on led to the conviction of the so-called 'Lord of Fraud', Hugh Rodley for which I was awarded a commendation.
Was it through working with Jerry, that you joined FCS?
Yes, some years later Jerry asked if I'd like to join the company and I jumped at the chance.  Customer Due Diligence (CDD) was where the business particularly needed help and with my background in analysis and anti-money laundering, it seemed like a good opportunity.
CDD is obviously your area of expertise.  The work at SOCA and the City Police must really inform what you do for FCS clients.
Yes definitely.  I mentioned SARs earlier.  While I've never had to complete a SAR I am able to advise on how they should be completed.  I've read a lot of them, including a lot of bad ones.  I know what the NCA investigator is looking for and what they're hoping to draw out from them.  It's important to know what to put in, but also what to leave out.  There's a definite knack to completing them.
You also work on other areas of the business too?
Yes, I help with Risk Assessment Manuals and pulling together Policy and Procedures files.  I also man the FCS hotline, where people can call with AML queries and I do a little training too.
What kind of questions do people call the hotline about?
All kinds of things – generally outside the scope of their everyday norm.  Offshore companies, a scenario that they think may be suspicious, but aren't sure, or simply to check that they've done everything they need to.
It sounds like a varied job?
Yes it is and it's the variety I like.  At work different things come up each day.  And the people we come across and work with are really interesting.  Money laundering as a wider subject is always current, and there are new cases that pop up in the press every month or so.  It's a fascinating, ever-changing line of business to be a part of!
If you were to give one top tip to FCS clients what would that be?
Record keeping! When you're carrying out CDD keep a record of the decision-making process as you go along.  Why did you do you act as you did, what where the thought-process behind the steps you took?  It's important, as four or five years down the line you may be asked to recall these and the records you kept at the time will prove invaluable.
And finally, the one common mistake you see people make:
It's easy to forget to keep your training log up to date.  But make sure you do, it's one of the things HMRC look for when they run an inspection.
Thank you for your time Jen.
It's been a pleasure.  I just want to add that our clients all want to be AML compliant and we're here to ensure that they are.
– October 2021 –